Introduction
Uttarakhand known as 'the adobe of the gods' is more than lives up to this title. Majestic and magical, its pristine beauty is almost spiritual.
N estled between the Himalayas, Uttarakhand enthralls with its spectacularly scenic landscape. Charming hill stations juxtaposed against snow-capped peaks, quaint villages along winding mountain roads, serpentine rivers carving their way thorough hills, waterfalls hurtling down slopes, and serene lakes shimmering in the city-stresses soul. it's no coincidence that, literally translated, Uttarakhand means 'The Adobe Of The Gods' .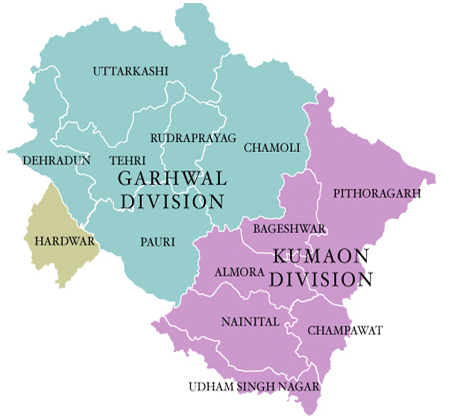 Sprawling and numerous national parks speak of the state's continuous efforts to conserve wildlife its rich culture and religious heritage ensures that it remains on top of every pilgrims travel plan a hotbed for skiing, rafting, mountaineering and even paragliding make it and adrenaline junkie's ideal choice for a dream destination. The crowing glory is its people warm and friendly, they're always ready to extend generous hospitality to visitors.
This stunning hills state is divided into Kumaon and Garhwal regions. The towns of Nainital, Haldwani, Rudrapur, Almora, Pithoragarh, Mukteshwar and Ranikhet populate the Kumaon region. You will find many quite hill retreats like Binsar, Jageshwar, Bageshwar and Ranikhet, all of which lie in Kumaon. The district of Uttarkashi, Haridwar, Chamoli, Dehradun, Pauri Garhwal, Rudraprayag and Tehri-Gahwal fall in Garhwal division.
History
Legend has it that the great Hindu rishi, Veda Vyasa, wrote the Mahabharata in Uttarakhand and the Pandavas camped here on their final journey. The kols, and aboriginal people of the Dravidian line, are apparently the first known settlers. They were then succeeded by the indo-Aryan Khas tribes who entered India from its northwest frontier. Its lush landscapes attracted more than its fair share of rules the major, traceable dynasties included the Kunindas the 2nd century BC, the Nagas around in the 4th century BC and 14th centuries. The other tribes that are said to have settled in the highlands were Tibetan Burmese, knows as the Kiratas.
Uttarakhand owes its modern consolidation to the Medival Era, a time of great monetary and artistic prosperity,when the then rulers of the land split it into Kumaon and Garhwal areas. This golden age ended when, in the late 18th century and early 19th century, the Gurkha Empire of Nepal expanded its territory by capturing Kumaon and Garhwal, leading to the Anglo-Nepal War.
In a bizarre twist of fate, the battle fighting for the sovereignty of the Kumaon and Eastern Garhwal regions, and ended up ceding both the regions to the British as part of the Treaty of Sugauli, after India gained Independence from the British in 1947, the entire Garhwal kingdom was merged into Uttar Pradesh. Uttarakhand got statehood in 2000.
Lakes & Valleys
Uttarakhand has some of the most beautiful lakes India can boast of the word 'Tal' means a waterbody, wither a lake or a pond. Which is from where some of the prettiest towns of Nainital,  Bhimtal, Naukuchiyatal, built around sprawling lakes, lakes, draw their names.
The hill stations of this region are scenic wonderlands with views of snow-clad peaks and pine tree lined slopes that are breathtakingly beautiful. You can spend days just walking around sleepy cantonment towns like Ranikhet, or watching the town lights twinkle on hilly slopes as the sun goes down.
The capital Dehradun not only makes a base for travelers en route to Mussoorie but is a vibrant city with a salubrious climate. The Doon Valley is a hub of some of India's best residential schools including the very prestigious Doon School, St. Joseph's Academy, St. Thomas' College and Welham Girls School and Welham Boys School. The Rashtriya Indian Military College here is a feeder to the National Defence Academy. Uttarakhand is also home to the famous Valley of Flowers carpeted by a million blooming blossoms. This is now a Unesco World Heritage Site.
Holy Heritage
Some of the holiest and most revered spots of India and located in the state. The Char Dham Yatra encompasses Yumnotri, Gangotri, Kedarnath and Badrinath, and draws millions of pilgrims from all over the country and of course, there is the most famous of them all, Haridwar. Who has not heard of the Kumbh Mela, the mesmerizing Ganga Aarti, or the Laxman Jhula at Rishikesh ? Haridwar is where India's holiest river Ganga enters the plains.
Dare Devil
Those who want to try their at adventure sports, Uttarakhand presents a wide range of options. Expeditions to glaciers such as Pindari, Sundardunga and Khatling lure trekkers and mountaineers, while skiing at Auli is popular for both beginners and experts. You can also go snow camping at Dhanaulti where you can walk on soft, fresh, powdery snow by day and snuggle up in comfortable tents at night. Shivpuri near Rishikesh provides an opportunity to go white water rafting on the Ganga. Nainital pampers with premium lifestyle entertainment options. Those who enjoy camping can pitch a tent and indulge in long nature walks, bird spotting and fishing.
Uttarakhand offers something for everyone. A true family holidays destination it can be as peaceful or as active as one wants. A thrill a minute ride on the rapids, soul stirring walks down hilly roads, spiritual cleansing as you dip into the holy Ganga.