Nainital Monsoon Mountain Marathon (8th) – 2017
August 27, 2017 @ 6:00 am

-

10:00 am
Nainital Monsoon Mountain Marathon (8th) – 2017
To the uninitiated,  Run2Live is not purely synonymous with the name it carries with it..Since
2007 Weare chasing our social responsbilities……  i.e. to run to stay fit,  but it has played a vital role in covering a wide spectrum of social activities with the intention of playing its part in strengthening the
social fabric through its various activities. Run2live has been closely associated with the Blind School at Haldwani and has contributed in its own way from time to time for these Special children.  Providing scholarships to deserving underprivileged students is a regular feature of this organisation.  We pledge to keep our environment clean and green – Run2Live has conducted  a number of plantations in and around Nainital with its aim to preserve the greenery .  The ideology of this organisation is not only keeping fit but also to ensure that    it will strive to its best by contributing in its own way for our society to whatever extent possible.
Registration link Visit:-
https://www.townscript.com/e/nainital-monsoon-mountain-marathon
Entry cost for people residing in Kumaon region is just 100₹ and for outstation athletes it is 1000₹, 
Free one day stay T-shirts Bibs and timing chip is provided to participants by the organiser's
Total prize money this year is 500000₹
The various categories are:-
  21K(half Marathon) open category main event .winner gets 50000₹ cash prize top five get cash prizes too,
 In this category the top three local finishers also receive cash prizes(5000,3000,2000)
10k for both boys n girls open

5k juniors/seniors both boys n girls only for local school children upto class12 in and around Nainital district

Veterans(45+) 10kopen

Run for Nainital open for all 3k
All outstation participants are provided for overnight stay this expense is borne by our hospitality sponsors
The Manu Maharani Hotel ltd
Primrose Hotel – Mall Road Nainital
Channi Raja –  Mall rd. Nainital
Vikram Vintage Hotel – Ayarpata Nainital
This years Media partner for english print coverage is "The Times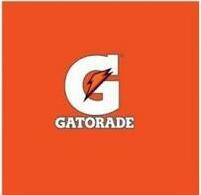 of India" group
Sports drink Partner is Gatorade (Pepsico India),Nainital Monsoon Mountain Marathon is proud to announce @GatoradeIndia as it's official sports drink partner. Gatorade helps rehydrate, replenish and refuel what the athlete loses through sweat. #sweatmore #sweatforgold
Also  LIC of India is one of the main cash sponsors this year, along with a few more local based companies and business establishments.
For the first time we have introduced the international standard Timing Chip, this is a way to track the timing of runners
Runners have to cross a mat at start and the turning point of the race to qualify .
This years celebrity/important guests and runners are:-
Hon. Sports Minister for Uttrakhand
Shri Arvind Pandey 
Lt Col Sundaresan R (retd) 
Lt Col Sir has taken up the cause to raise funds for Army Widows by running 50 full marathons in 50 weeks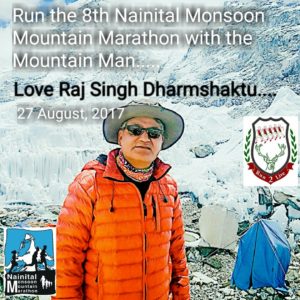 Padma Shri awardee Shri Love Raj Singh Dharmshaktu 
The Mountain Man, he is as of date the only person to have conquered mount Everest 6times(this is an official world record) .Last time he did it was May 2017.  He belongs to the BSF
 Mountaineer Shri Yogendra Garbyal 
Shri Yogendra Garbyal  is the first person ever from the corporate world to have climbed Mount Everest (may 2017). He is working for ONGC India.This achievement is a world record.
The DM of Nainital,  SSP, Local MLA's and officials from govt Departments will also be present for the occasion.
Oh yes the Social cause runner n ex-army man will be here in Naini to Run in our event a brief abt the man himself is here below
Lets be wid Lt Col Sundaresan
RUN WITH A SOLDIER RUN FOR A SOLDIER – 50 MARATHONS IN 50 WEEKS IN 50 ROUTES
Lt Col Sundaresan R (retd) is on a mission of running 50 Full marathons in 50 weeks over 50
locations/routes. The Theme of his mission is "RUN WITH A SOLDIER RUN FOR A SOLDIER". He started his journey on 11 Dec 2016 and will finish his 50th Marathon in this series on 19 Nov 2017. He intends to generate funds for donating to families of martyrs. 
He has already completed 36 Full marathons (42.195 kms) covering 20 states and UTs. He will be running his 38th Marathon in Nainital on 27th Aug 2017. Since the event is a half marathon event, he will run 21 kms before the event starts and 21 kms along with the event. 
Lt col Sundaresan  addresses corporate offices, educational institutions and running clubs to create awareness about the Indian Army, Physical fitness, Marathons and Ultramarathons and his present mission of 50 Marathons. 
The Indian Army Officer has served for 23 years in the Army in places like Poonch, Siachen Glacier, Doda, Srinagar etc. He has also worked in corporate offices for four years before quitting to take on this mission. He had taken up marathon running post retirement and is also a qualified marathon trainer from the American College of Sports Medicine. He has run in many marathons and ultramarathons events including the tough COMRADES ultramarathon in South Africa in May 2016, covering a distance of 89 kms over five mountains. He completed the course in 11 hours 52 minutes.
In the past 36 weeks, he has already run in places like Mumbai, Chennai, Ahmedabad, Pondicherry,
Gurgaon, Delhi, Bangalore, Mysuru, Patiala, Amritsar, Dehradun, Sikkim, Guwahati, Manipur, Kargil etc. His last marathon in this series of 50 marathons will be at Mumbai on 19th Nov 2017, He can be contacted at  sundaresan50m@gmail.com
One day before on 26th August the MTB challenge will be held this is an open category for cycling racers of Mountain Terrain Bikes, Total participants for MTB Challenge is restricted to 50people this year again its held in Nainital proper.

Contact:-