Article, News
Ecosystem, Lakecitynainital, Nainital, nainitaladministration, Nainitalparking, parkingissue, TimesOfIndia, touristseason, Uttarakhand, uttarakhandhighcourt
With 0 comments
Driving to Nainital? Book parking first.
Uttarakhand HC has directed the Nainital administration to advertise in four national newspapers and TV channels that tourists driving to the hill station should first arrange parking for their vehicles. Nainital has a shortage of parking space.
Uttarakhand high court on Monday pulled up the state government for its inability to address parking woes in Nainital and directed the district administration to "advertise prominently in at least four national newspapers and channels clearly sending out the message that those coming to Nainital with their own vehicles should first make advance arrangements for parking their vehicles".
The division bench of justices Sudhanshu Dhulia and Lokpal Singh further directed that it should be publicized that those who cannot arrange advance parking "should not bring their own vehicles to the lake town".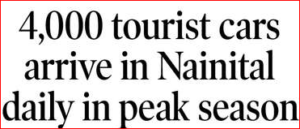 The directions were issued in the presence of Nainital district magistrate and senior superintendent of police. Addressing the officials, the judges said, "If we find that your intention towards working on traffic issues is not right, we will be forced to take strict steps."
The court also directed the district administration to create separate space for street vendors by April 18.
The court's directions came while hearing a public interest litigation (PIL) filed by Nainital-based activist Ajay Singh Rawat who had filed the PIL in 2012 with a prayer to declare the town an eco-sensitive zone.
Credit : TOI & Vineet Upadhyay, Article Date : 3rd April 2018.