TOP TREKS IN UTTARAKHAND
Almora – Jageshwar – Binsar Trek  | Distance : 20 KM | Duration : 3 Days
This is paradise for those looking for a medium-distance trek that can be done easily. Trekking up to Binsar Wildlife Sanctuary, you get a clear view of the Himalayan snow line. Traversing through forests thick with pine, rhododendron and oak trees, you can enjoy crossing some beautiful rivulets along the way.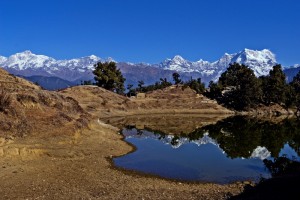 Devariya Tal – Chandrashila Trek | Distance : 15 KM | Duration : 3 Days
Rich in flora and fauna, this beautiful route encompasses a whole paradigm of landscapes, taking you through forests, meadows and snow-clad Himalayas. Start from Okhimath, pass through Devariya Tal, Chopta and Tungnath to reach the summit of Chandrashila.
Rajpur-Mussoorie Trek | Distance : 12 KM | Duration : 1 Days
This route was once the only access to Mussoorie and people went on horseback or were carried in a palanquin by porters. Today, it make for a pleasant trek along a winding road.
Nainital-Betal Ghat Trek | Distance : 47 KM | Duration : 3 Days
One of Nainital's easiest treks, this is great for beginners. During this three-day trek, you go from Nainital to Binayak, then onwards to Kunjkharak. On the second day, you get gorgeous views while walking up to Betalghat, about 12 Km from Kunjkharak.
Almora – Doonagiri – Kausani Trek | Distance : 35 KM | Duration : 5 Days
Passing through beautiful terrain, the trek from Almora up to Kausani through Doonagiri is very popular. This exciting trek offers panoramic views of the Kumaon Himalayas, ancient temples and picnic spots.
Nag Tibba Trek | Distance : 16 KM | Duration : 3 Days
Nag Tibba is just a few feet short of the magical 10,000-ft mark. The mixed oak and deodar forests are dense and isolated, and host to a rich variety of bird and wildlife. It also has a romantic association with Heinrich Harrer's book, Seven Years in Tibet.
Govind Ghat – Ghangariya – Valley of Flowers – Hemkund Trek | Distance : 30 KM | Duration : 3 Days
Ghangariya, a small village beside river Lakshman Ganga, server a base camp of the trek to Hemkund and the Valley of Flowers. The famous Govind Ghat got its name from the Guru Govind Singh mediated here. Hemkund Sahib is a beautiful lake, which stays frozen for eight months of the year, The Valley of Flowers is a 3 km climb from Ghangariya.
Joshimath – Auli – Kwari Pass Trek | Distance : 26 KM | Duration : 3 Days
Joshimath to Auli is only accessible during summer. View Nanda Devi in the morning at Auli, and move on to Kwari Pass through stunning bugyals, Since the Indian Viceroy Lord Curzon had once trekked up to Kwari Pass, the route is known as the Curzon Trail.

Joshimath – Tapovan – Khulara – Kwara Pass Trek | Distance : 36 KM | Duration : 3 Days
This trek, right through the heart of the Chamoli district, offers glorious views of the eastern peaks visible from Kwari Pass are Nanda Devi, Doonagiri, Bethartoli and Devarthan.
Yamunotri Pass – Ruinsara – Har Ki Doon Trek | Distance : 132 KM | Duration : 1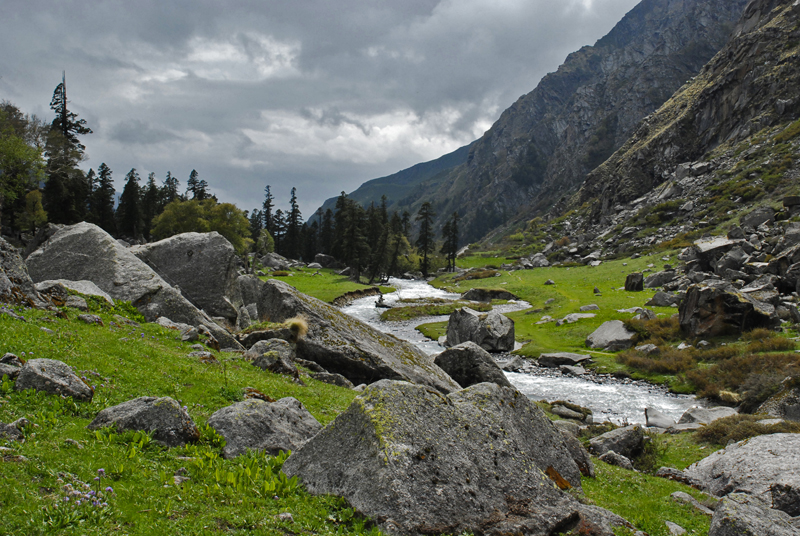 2 Days
From Yamunotri through Bavli Pass, you arrive at the lovely Ruinsara Tal, which is surrounded by lush meadows and dense forests. You then trek on towards the luxuriant Har-Ki-Doon Valley in Garhwal, with snowy mountain peak in the backdrop, and dense forests of pine, which means the Valley of Lord Krishna, is presided over by the Swargarohini Peak (6,096m). This is where the Pandvas  are believed to have ascended to heavens.
Pindari Glacier Trek | Distance : 42 KM | Duration : 8 Days
Nestled between Nanda Devi and Nanda Kot in the upper reaches of the Kumaon Himalayas, the Pindari Glacier showcases nature's rugged beauty in all its glory. The trail to the glacier takes you through a string of picturesque villages, and onwards to Dhakuri Pass. You then continue on to Kati, the last inhabited village on the trail. The Pindari River now opens up, cutting a gorge in the formation of glacial terraces.  Waterfalls, hanging valleys and jagged cliffs greet you at Zero Point, where the trek ends.
Kafni Glacier Trek | Distance : 44 KM | Duration : 8 Days
The Kafni Glacier lies to the left of the Pindari Valley, below the famous Nandakot Peak. As compared to Pindar, the valley is much broader and the rhododendron that blooms here looks spectacularly beautiful.
Sunderdunga Glacier Trek | Distance : 46 KM | Duration : 9 Days
The spectacular sunderdunga Valley, which means 'the valley of beautiful stones', lies to the right of Pindari Glacier. Must see glaciers here are Maikoli and Sukhram. The trek here is tougher than the Pindari and Kafni Glacier treks.
Panchkedar Trek | Distance : 121 KM | Duration : 14 Days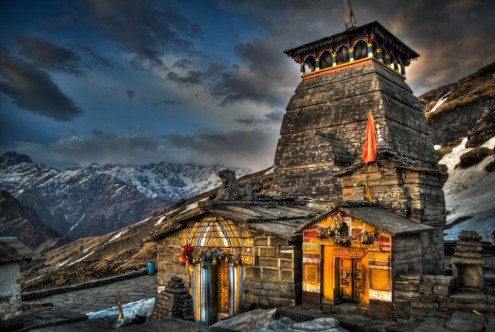 The Panchkedar trek in the picturesque Kedar Valley includes five shrines associated with Lord Shiva. The Shivlinga at Kedarnath resembles the hump of a bull. Madhmaheswar has one in the shape of a navel. Tungnath is the highest temple in Garhwal, which is where the arm of Shiva is said to have appeared. Rudranath represents tha face of Shiva, and in Kalpeshwar , Shiva is worshiped in his matted hair form.
Gangotri – Gaumaukh – Nandavan – Tapovan Trek | Distance : 56 KM | Duration : 7 Days
Part Pilgrimage, part adventure- that is what a trek from Gangotri to Tapovan offers you. Gangotri to Bhojwasa is a day-long trek along the roaring Bhagirathi. Deodars and pines surround you, even as ashrams line the banks. Tapovan is an alpine meadow filled with wild flowers. Standing here, it is easy to see why sages chose this spot for extended meditation.
Gangotri – Kalindi Khal Trek | Distance : 117 KM | Duration : 8 Days
Connecting the two holy shrines of Gangotri and Badrinath, this trail is for experienced trekkers. Traversing from one glacier to the other to cross the Kalindi Pass, the trek features moraines and snow fields with deep crevasses, fabulous views, high-altitude wildlife and camping by some small glacial lakes.
Dodital-Yamunotri Trek | Distance : 78 KM | Duration : 6 Days
Dodital is a sylvan lake north of Uttarkashi, preched 3,024m above sea leavel. Its crystal clear waters are teeming with fish,  such as the Himalayan golden trout, The forest surrounding the lake has wildlife, and provides an idyllic setting for recreational activities like angling, boating and bird watching, The next leg of the trek, through Darwa Top, at a height of over 13,000ft offers breathtaking views.
Milam Glacier Trek | Distance : 57 KM | Duration : 5 Days
The trek to Milam starts from Munsiyari. The route passes through Lilam, Bogudiar, Rilkot, Martoli, Burfu and Bilju. Stretching across 28 km, the Milam glacier is the largest in the Kumaon region. Although 52 peaks reign in this region. The most majestic of them is Trisuli. At snout of the Milam glacier rises the Gori  Ganga river.
Om Parvat – Adi Kailash Trek | Distance : 169 KM | Duration : 15 Days
Jyolingkong (also known as Adi Kailash) is a holy mountain for Hindus in Pithoragarh district. It resembles Mount Kailash in Tibet.
Nanda Devi Base Camp Trek | Distance : 56 KM | Duration : 5 Days
This trek commences at Munsiyari and the route ascends up the Gori Ganga river gorge which separates the Nanda Devi group from the beautiful peaks of the Panchachuli group. The initial part of the trek leads you through the high Himalayan region to open up into the wide expanse of the gentler trans Himalayan settlements on the way and villages, like Rilkot and Martoli, have houses that are apparently over 150 years old.
Khatling Trek | Distance : 48 KM | Duration : 5 Days
The Khatling glacier is the point of the emergence of river Bhilangna. The glacie is ringed by snow peaks of the Jogin group )6,466m), Sphetic Pristwar (6,905m), Barte Kauter (6,579m), Kriti Stambh (6,902m) and Meru. Towards the end, you go over moraines and some treacherous terrian.
Roopkund Trek | Distance : 117 KM | Duration : 12 Days
Roopkund  is surrounded by rocks strew glaciers and snow-clad peaks. The lake is often called 'mystery lake' because human skeletons and remains of horses from the Paleolithic age were found here. Bedni Bugyal and Bhagwawasa are the most beautiful places on this trek route.
Gangotri – Bhojkhark Tal Trek | Distance : 18 KM | Duration : 4 Days
This steep uphills trek takes you through a George with alpine forests of bhojpatra, (the famous 'paper tree'), juniper, and deodar. You can enjoy viewsof Gangotri town on this route.
Chiplakot Trek | Distance : 42 KM | Duration : 4 Days
Chiplakot is a small village in Pithoragath district, popular for skiing. The alpine meadows of Chiplakot Bugyal are about 30 km from Munsiyari, and dotted with tiny lakes.